How to rank for head term keywords using internal links to amplify long tail keywords in supporting content without relying on link building
Key takeaways:
Head term keywords get the most search impressions
Direct backlinks to the target URL is one way to get ranked but getting the right ones, at scale, is difficult
Publishing supporting content (on the same topic) will allow you to rank for long tail keywords
Linking these supporting URLs to each other and to the target URL, using contextual anchor text, will allow you to gradually move up the SERP for head term keywords.
Head terms have the most search volume and ranking for them in Google Search ensures you capture as much organic demand as possible.
Here's the exact game plan to rank for head terms as quickly as possible:
Establish trust
Retire technical debt
Publish better information that competitors
Build links
Let's get started.
How to rank for head term keywords in 8 steps
Be someone people can trust
The internet is a vast library of information and anyone can publish content to the internet.
This presents a problem for people looking for a solution – can they trust the information they find on the internet?
One way to overcome this distrust is to establish trust signals on your website.
How to establish trust signals on a website:
Add a descriptive 'About' page and disclose who manages or owns the website
Mirror this information in citation or foundational links
Add Organization schema markup to the homepage and nest this information in other pages
State the author of informational content with links to corresponding social profiles and reflecting this in the page's schema markup
If you publish a lot of review and comparison content, disclose how evaluations are carried out, who the reviewer is and what makes them a trustworthy reviewer, and which products or services were sponsored.
Doing these will drastically help conversion rate once you rank for head term keywords.
Remove as much crawling and rendering blockers as possible
The process of technical SEO and how it relates to search engine optimisation is summed up in the following 3 statements:
Crawled ≠ indexed
Similarly, indexed content ≠ ranked on page 1 of Google or Bing SERPs (because a page can be indexed and served on page 9 – which means nobody will ever come across it)
All indexed content = successfully crawled and rendered.
The quicker you accept this, the easier your job becomes and this is why reducing technical debt is so important.
However, every website has its own unique set of crawling, rendering and indexing issues.
You can use my technical SEO checklist to identify which ones exist and which ones you should prioritise over others.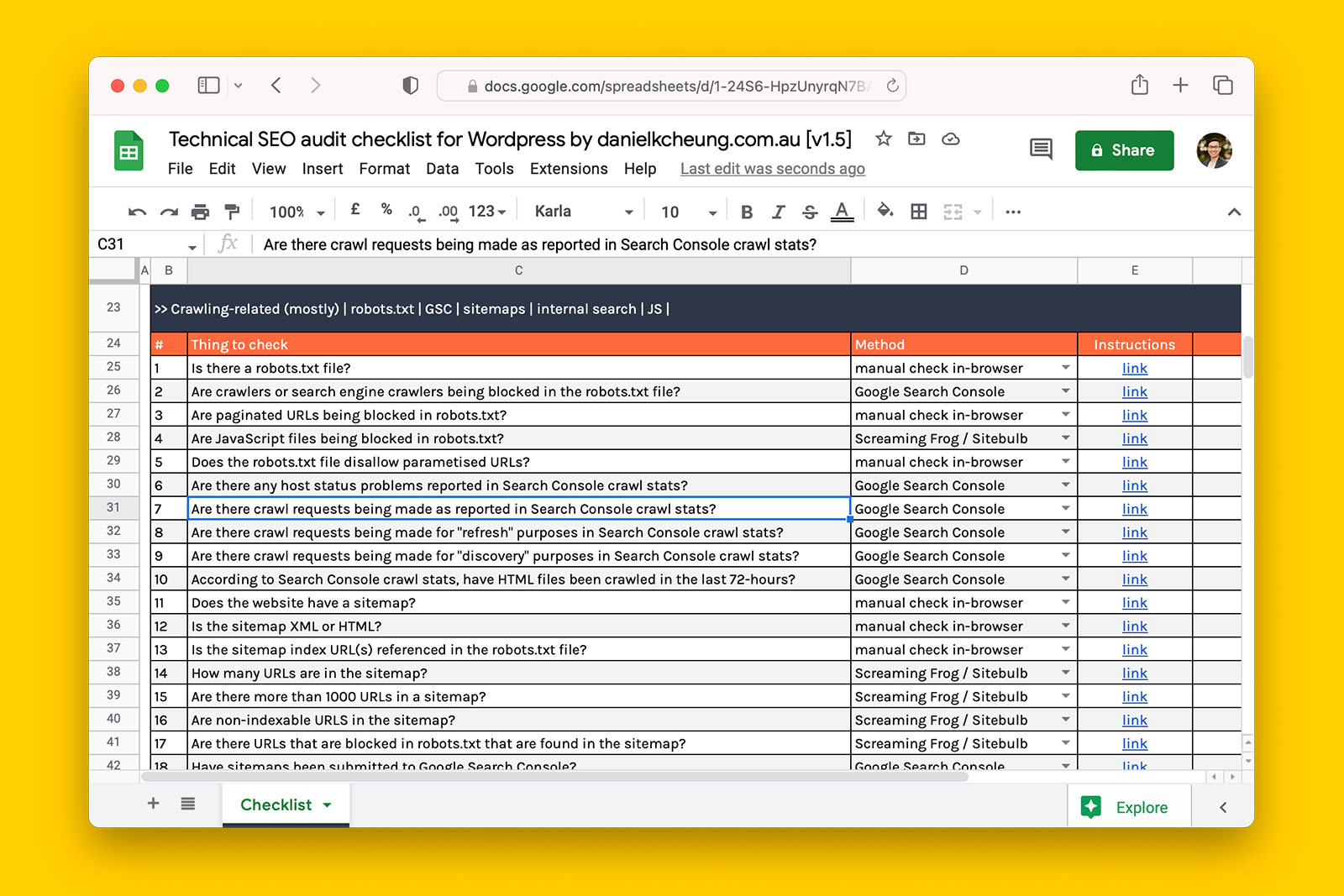 For example:
Important note: you should never try to resolve all technical SEO issues. Your job is to find out which issues matter and which ones can wait.
Break down head term keywords into long tail keywords
A head term keyword is the broadest way to describe a concept and this is why they have the most search volume.
At the same time, head term keywords are difficult to rank for while long tail keywords are much easier to rank for and you will see results quicker this way.
How to break down a head term keyword into subtopics:
Identify a specific audience for your content (e.g., renters who want the convenience of smart home products): The more specific you are, the better your content will be because you are no longer talking in broad terms, but rather, fulfilling a particular desire that the searcher is looking for.
Use what, why, how, and when questions: With your target audience in mind, provide the best answer for their needs, goals, and budget.
X vs Y queries: Humans tend to want to validate that they're making the right decision. This type of content lets you leverage search intent driven by the desire to find the best solution
Put the head term keyword into Google and scrape People also ask entries for long tail keyword ideas relevant to your target audience
Bring in a subject matter expert to offer content ideas that you can't easily find in Google Search.
Once you've got a list of long tail keywords, bundle relevant keywords together and answer them on the same URL.
For example, I want a category page to rank for the head term 'security cameras' – a keyword with 266K searches per year. This is how I'd break the head term down into subtopics and align them to a supporting piece of content.
Alternatively, you can use the usual keyword research tools such as Semrush, Ahrefs, or Serpstat, and alsoasked.com to get a list of PAA if you have the budget to do so.
For keyword clustering, check out keywordinsights.ai.
Important note: a word of warning for those of you who prefer to use tools – never trust them 100% and always review their output. In this instance, Semrush has reported the head term keyword as having informational intent when it more likely a commercial one (or mixed intent).
Make the content so that it offers the best experience for your intended audience
The goal of a search engine is to offer the best answers for any given query so that people return to the platform to help them generate ad revenue. And representatives from Google's search relations team have long advised SEOs to create better content.
But what does 'create better content' mean?
A common mistake marketers make is confusing word count with topic depth.
Covering a topic in adequate detail (i.e., topic depth) is not the same as high word count.
Instead, refer back to the topical mapping exercise described in 'Break down head term keywords into long tail keywords'.
Avoid rephrasing the same basic information that already exists on page 1 of Google SERPs. Instead, include subject matter expertise in the content because this is the type of content that search engines want to promote.
Great content can be achieved via:
providing new information that other websites have failed to cover
being more detailed so that the reader doesn't have to perform additional searches
offering a controversial opinion backed up by real experience
addressing a particular group of people rather than a broad audience.
Important note: some of you may be tempted to use ChatGPT to quickly create content. This is a bad idea as the information can often be incorrect. More importantly, ChatGPT can only give responses based on content it was fed up to 2021. Therefore, ChatGPT output, no matter how amazing it may appear, needs the oversight of a subject matter expert to ensure the content offers a better experience than what already is indexed and ranked on the internet.
For those of you with content writers, you can relay all this information to your writer in my content brief template.
Publish
Perfection in SEO does not exist and content that sits in draft cannot be crawled, rendered, and indexed by search engines.
It is better to publish earlier and incrementally improve the content at a later date than to wait until the content is perfect.
Therefore, the quicker you publish, the quicker you can gather data and make iterative improvements to your content.
Add internal links from other URLs to new URL using descriptive anchor text
Internal links from one webpage to another helps search engines understand there is a relationship between the topics and entities that exist on the pages.
Descriptive anchor text lets search engines understand how these topics and entities are related. I like to use the long tail keyword of one page to link to another to build a strong topical map with my supporting content.
This is why internal linking is such a critical step in helping you rank for a head term keyword.
Kevin Indig covers internal linking in detail in his guide titled 'Internal Linking for SEO: best practices, strategies, axioms'.
Monitor long tail keyword impressions in Google Search Console and add or improve content based on GSC findings
The impressions metric in Google Search Console tells you the number of times a URL from your website appeared in Google Search viewed by a searcher.
The impressions metric can be used to evaluate how recently published content is performing. In particular, I use it to gauge how well the content was written and whether Google has associated long tail keywords to the content.
How to monitor keyword impressions in Google Search Console to help guide content upgrades:
Locate the URL you wish to analyse by using the page filter in GSC
Uncheck 'Total clicks' metric, toggle 'Average position', and ensure 'Total impressions' is checked
Go back to the QUERIES tab and sort the rows by 'Impressions' in descending order
This view will give you a list of long tail keywords that are associated to that URL and the number of times this piece of content has been served on Google Search.
Alternatively, you can sort by 'Position' to see where long tail keywords are ranked.
With this information, you can make a data-backed decision to include new phrases and variations of related long tail keywords to the content.
For example, I can choose to include the long tail keyword 'bridal gown alterations' because it has the most impressions, is currently ranked on page 7, and is relevant to the primary target keyword of the page.
Build links to all the supporting pages (not just the head term URL)
Backlinks play a role in how well and how quickly a page ranks on Google Search. They will amplify everything you have done up until now.
Similar to internal links, anchor text from inbound backlinks should be keyword-rich, or at the very least, tell search engines what the linked URL is about.
If budget permitting, I recommend building links to all your supporting content pages. PBNs, guest posts, link inserts, tiered link-building, take your pick depending on your appetite for risk.
And because you have published content superior to ranking webpages and have added internal links between supporting content, there is less pressure to acquire top-tier links.
In closing
Ranking for head term keywords requires a holistic approach to SEO because there is no single tactic to get you there. Instead, it is a process of continued refinement, publishing useful information that betters other websites, and using backlinks to speed up the process.